I forgot how it feels to be in the middle of a waiting game. I've always been the busy one.. My due is April 17 and up to now, still no signs of labor. I've alloted this month and next month for my maternity leave which means I didn't accept any big commission jobs because I'm afraid I might not be able to deliver to my clients. I was expecting to give birth first week of April considering I'm pretty active these whole 9 months but I was wrong. So yea, I'm here trying to fill my open time with productivity. I still accepted small commissions like accessories and stuff for it's still cash flow, worked on shop items and inventory, starting to flesh out project ideas I kept on pushing back. I appreciate the "open time" but it's somewhat frustrating.. i don't know.. I just want to give birth asap for I've never been this ready for a major life change. I'm like: "Bring it on, life" and life's like, "Meh.." Haha.
One of the projects I kept pushing back was making my kawaii corner in our apartment. And being a fan of shabby chic interiors and the habit of upcycling, I recently got hooked with the craft of decoupage. I've been seeing them for years already in Pinterest but not really giving them much attention before. Today, I've collected my favorite decoupage ideas to share with you guys. Hope it would spark some creative juices in you.
This is so "now" isn't it? I've seen a few vintage suitcases in malls but the price is not that friendly. I never thought of making my own before. This could be done with make-up cases too.
This one is soooo clever. I tried upcycling a pair of worn out shoes way back but it wasn't as neat as this for I still was not aware of the thing called Modge Podge (special glue and sealer for decoupage purposes). FYI, Modge Podge can be used for both paper and fabric. There are different types of it. There are basic ones and special ones that would endure outdoor weather. So cool right?
Nyaaa! So pretty~! Makes me want to hoard wooden hangers from our local thrift shop that sells them. These will go well with the dresses I make.
Storage with style! I hate our plastic (Monobloc) storage. So tacky! I'm so going to do this.
Paper tea cup hats! I've seen them way way back already but forgot about it. Haha. A good way to upcycle cardboards and get rid of my fabric stash / retaso.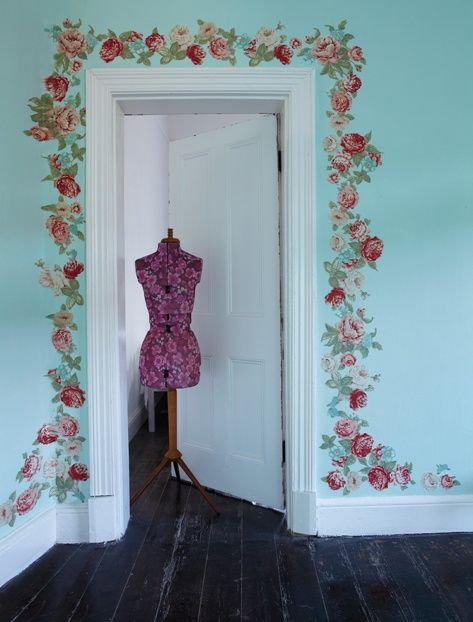 Wallpaper isn't cheap so this delighted me a lot. Why haven't I thought of this? Decoupage decals unto walls for accent! You can use lightweight fabric or scrap booking paper if you want full coverage.
Didn't I just say I hate Monobloc products? I'm going to pretti-fy these plastic chairs soon!
Draw patterns on a decoupaged dressform - so smart! I'm more on flat patternmaking though instead of draping but this is innovation at it's finest!
And here's another version that would suit my needs more. It has a Papemelroti feel which I love. I have a couple of broken dressforms rotting at my mom's house. Good thing I didn't threw them away.
It's pretty few for I've selected them according to relevance with my lifestyle and it's functionality. There are lots of ideas in Pinterest and with it's growing community, the ideas just kept on adding each day I take a look it's kind of driving me crazy. Haha. By the way, Modge Podge is available locally in Deovir just in case you've been worrying about that. I'm so excited!