This month involved lots and lots of sewing and crafting since I'm trying to clear everything before I give birth. I don't want any unfinished stuff coming my way on my post partum because I know I'm gonna be a zombie tending to my newborn during that time. I'm glad though that I have a caring partner though to take care of me to help me get through this phase of my life swiftly. Though I still have lots of dreams to chase, I can proudly say I'm content with what I have right now. Contentment = happiness. :)
Anyway, a breathe of fresh air for you guys. I made a wa lolita piece for a client. She sent me a design and I just altered it a bit according to what's appealing to my eyes. While this style is kind of hard to pull-off as a daily fashion, I tried my best to make it look not too costume-y.
The ensemble includes a pretty lace shawl that I think is a really pretty and unique accent. While the cut is traditional japanese, the lace gives it a victorian touch.
The fabric was a stressful hunt for me since she wanted something in this color palette with a floral print. This is one of the reasons why custom made dresses costs more if you request for a certain material.. The adventure of going on a fabric hunt is not always fun, you know. I was 8 months pregnant already when I was hunting for this. Imagine the back pain/pelvic pain/over fatigue I had to go through looking through those stalls of fabrics in Divisoria. I thought I was going to give birth on my way home. XD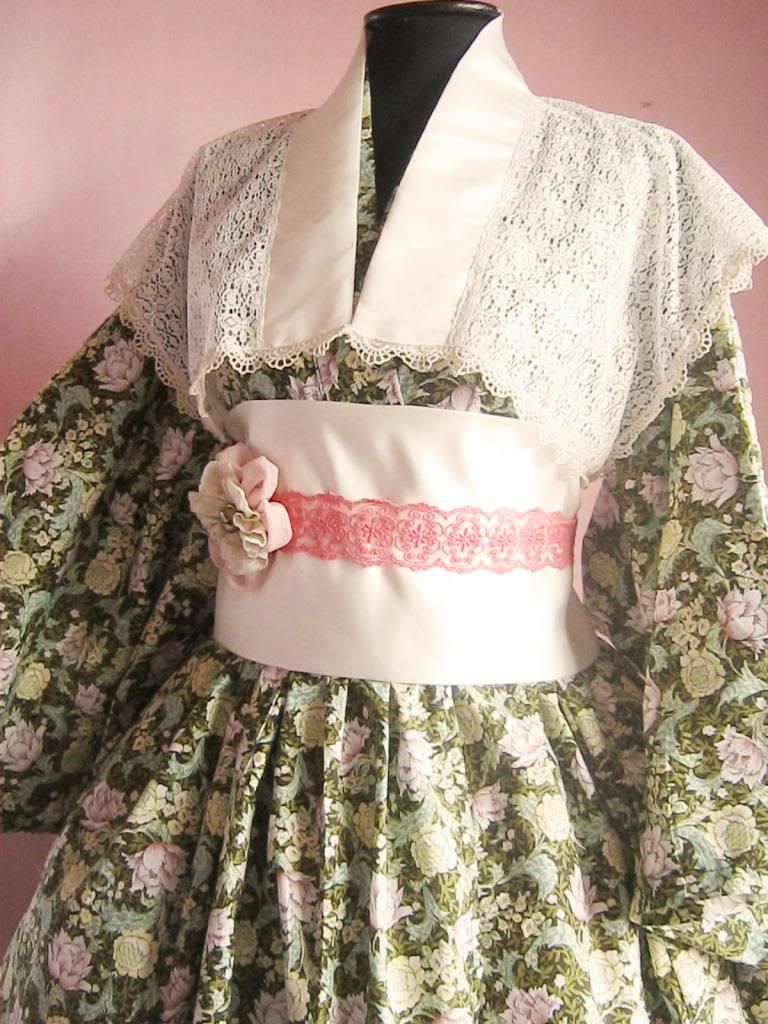 Obi is adorned with a salmon colored lace topped with a handmade fabric flower.
Matching headpiece is a bundle of pretty fabric roses in different textures and shapes.