Here is the much awaited giveaway I am supposed to hold last month but due to lots of activities that consumed my schedule, I was only able to do it now.
First and foremost, thank you so much for the ever loyal clients and subbies who have warmly received Dorotee Sweetlips for four years since it was founded in Multiply.com last 2008. To all the friends and mentors who had helped me grow and learn more about this craft. To my family who gave me freedom to life and let me follow my dreams and simply just be me. Thank you! Let's make more memories together for the love of notions and threads, of fabrics and hard work.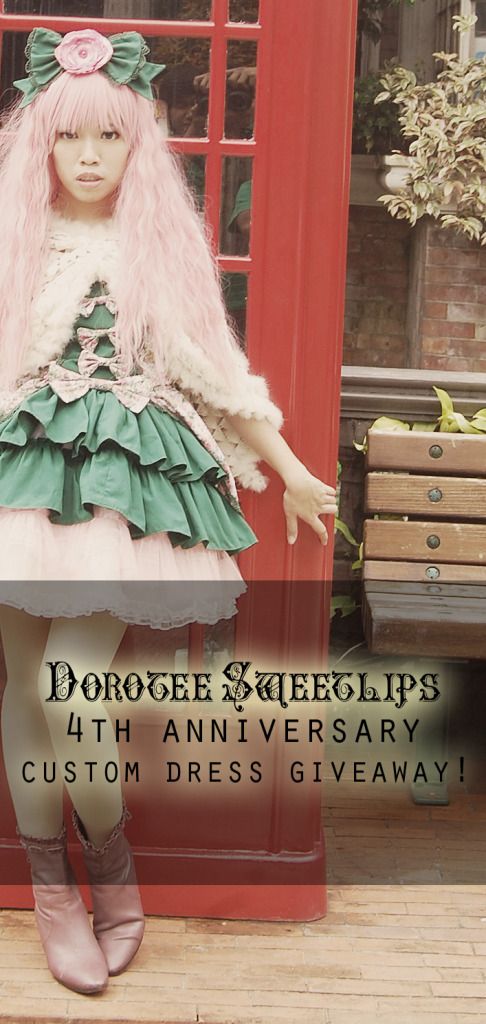 To enter:
Like Dorotee Sweetlips in Facebook.
Follow justinechantelleblog.net via Google Friend Connect
Share this blog entry publicly to your Facebook wall with the caption - @Dorotee Sweetlips is giving away a customized dress in celebration of it's fourth year anniversary.
Post the link of your shared post via comment in this blog entry with your full name, email address, Google Friend Connect username, Facebook URL and tell me why you'd like to own a Dorotee Sweetlips creation.
Prize:
A one-of-a-kind customized piece exclusively designed for the winner.
I will be reading through your comments and choose the winner with the statement that would capture me the most. Winners from last year are not qualified to join in this year's anniversary contest to give way to others. Open to all countries! Contest ends on October 4 2012.
Good luck! And please spread the word! :)